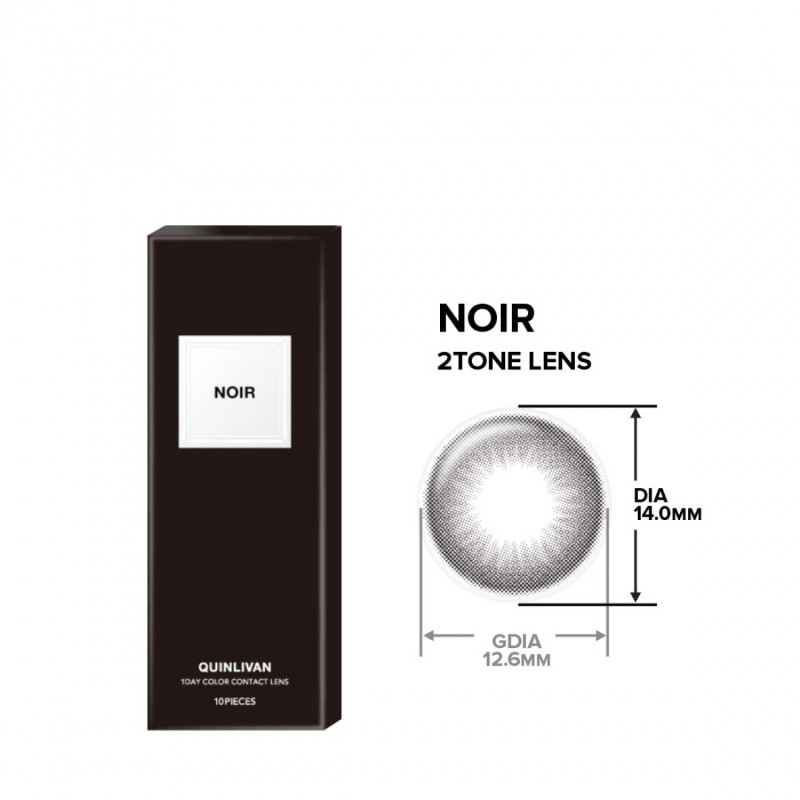 About Us
----
Quinlivan is the quintessential line of Beauty Contact Lens launched by Taiwanese A-List Celebrity Hannah Quinlivan. She is a Hollywood actress, supermodel and the wife of Jay Chou. Recognizing the need for beautiful lenses and her personal experience of having to wear them for long hours, Hannah worked closely with a team of cosmeticians from Japan to create a revolutionary new line of coloured lenses that not only makes the eyes dazzle; but also gives an unprecedented level of comfort. The Quinlivan 'I Was Born Like This' series focuses on a natural, yet captivating look suitable for every event or occasion. Besides Hannah herself, Quinlivan is also widely used by other A-List Celebrities and even Male Superstars such as Jay Chou, Jam Hsiao and Vanness Wu. With Quinlivan, owning a pair of naturally Mesmerizing eyes are no longer Impossible!

Quinlivan NOIR Lens
----
• 1-Day Disposable
• Lenses per box: 10pcs / 5 pairs per box
• 2tone lens
• DIA: 14.0mm
• GDIA: 12.6mm
• BC: 8.6mm
• UV: UV CUT
• WATER: 42%
Ingredients

QUINLIVAN daily cosmetic lenses are made of Hefilcon A Material and hydrophilic HEMA material to help the lens maintainhydropholic characteristics giving users the maximum comfort wearing it all-day long.
Usage

Lens Package
To open an individual lens package, follow these simple steps:
DO NOT use if the sterile blister package is opened or damaged.
1. Shake the lens package and check to see that the lens is floating in the solution.
2. Peel back the foil closure to reveal the lens. By stabilizing the lens package on the table-top, you will minimize the possibility of a sudden splash.
3. Place a finger on the lens and slide the lens up the side of the bowl of the lens package until it is free of the container.

Lens Handling Tips
(i) Handle your lenses with your fingertips, and be careful to avoid contact with fingernails. It is helpful to keep your fingernails short and smooth. DO NOT touch the lens with your fingernails.
(ii) Develop the habit of always working with the same lens first to avoid mix-ups.
(iii) After you have removed the lens from the packaging, examine it to be sure that it is moist, clean, and free of any nicks or tears. If the lens appears damaged, DO NOT use it. Use the next lens in the multipack. ALWAYS handle lenses carefully and avoid dropping them.

Follow these steps to insert the lens into your eye:
1. BE SURE THE LENS IS NOT INSIDE-OUT.
2. With the lens on your index finger, use your other hand to hold your upper eyelid so you won't blink.
3. Pull down your lower eyelid with the other fingers of your "inserting" hand.
4. Look up at the ceiling and gently place the lens on the lower part of your eye.
5. Slowly release your eyelid and close your eye for a moment.
6. Blink several times to center the lens.
7. Use the same technique when inserting the lens for your other eye.
1-DAY DISPOSABLE LENS 0 POWER (S:10PCS C:NOIR )