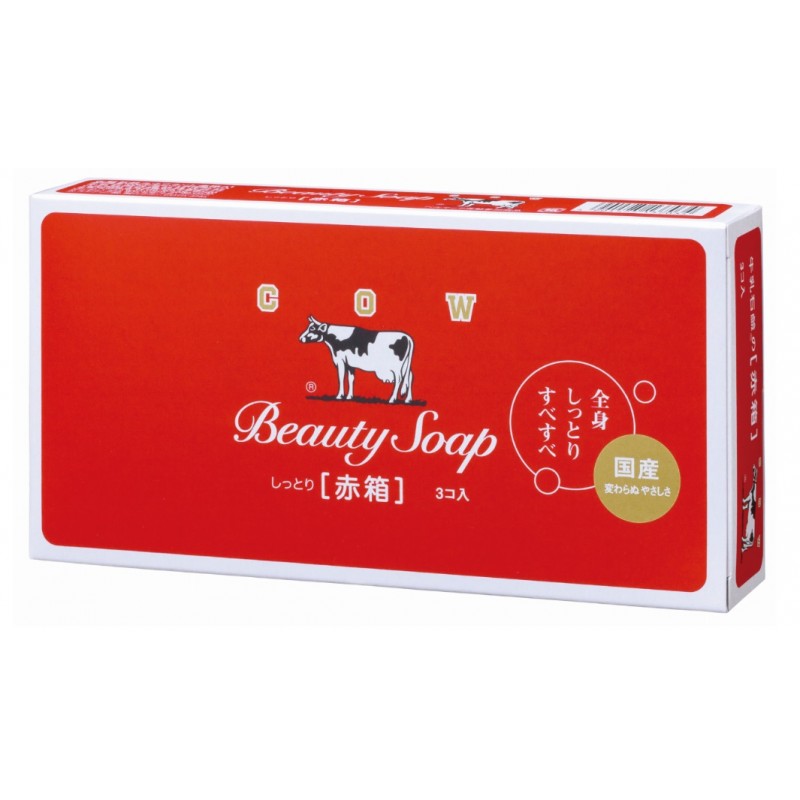 Expiry Date: June 2023
Cow Brand Beauty Soap Red Box is soap bar with milk-based cleansing ingredients plus squalene. It gives you a lather rich cleansing experience as well as skin nourishment with rose fragrance. Can be used on body and face.
Ingredients

Sekken Soji (JTN), Fragrance, Water, Titanium Dioxide, Tetrasodium EDTA, Butter, Squalane, Stearic Acid

Usage

1. Using your hands or, hopefully, a foaming net, to lather up the soap
2. Once you have a tennis ball-sized mound, lay the foam on your body and face.
3. Massage your face from the center out for 20-30 seconds, making sure that the foam forms a cushion between your fingers and skin.
4. Use a clean towel and dab gently on your face to remove excess water. Then moisturize as usual.

Concerns

Cautious:
Do not use when there is cut, inflammation or other facial disorders. Discontinue usage and consult a dermatologist if redness, swelling, itchiness or other irritations occur. Avoid contact with eyes. If it does, please rinse off immediately.

BEAUTY SOAP RED BOX 100GX3S (ROSE)
Brand: COW
Product Code:

10108020200087

Availability:

In Stock
RM 12.90
or 3 installments of

RM 4.30

with
Tags: bath products, bar soaps, bar soap, cow