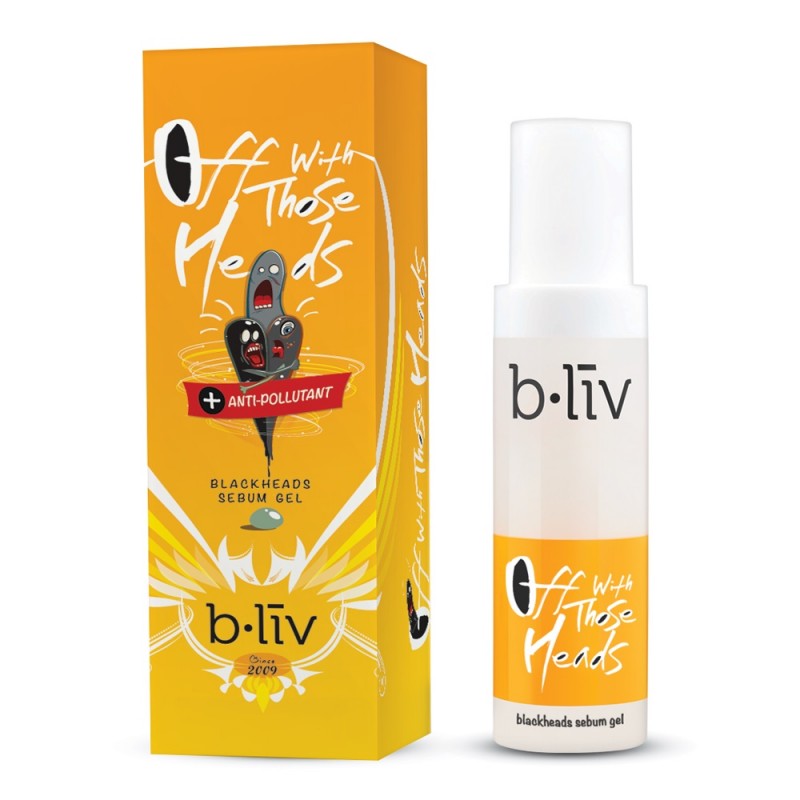 off with those heads removes blackheads without violence or pain, and stops them from appearing ever again. fortified with anti-pollutant ingredient to fight current environmental stresses, feel the improvement in your skin's barrier function.

the gel softens the clogging in your pores. its essence ingredients keep oil under control, and skin aggravation will never again rule!
Ingredients

Water (Solvent)
Carbomer (Emulsion Stabilising,Viscosity Increasing Agent,Gel Forming,Viscosity Controlling)
Propylene Glycol (Fragrance,Humectant,Skin-Conditioningagent - Miscellaneous,Solvent,Viscosity Decreasing Agent,Skin Conditioning,Viscosity Controlling)
Melaleuca Alternifolia (Tea Tree) Leaf Oil (Antioxidant,Fragrance,Perfuming)
Mentha Piperita (Peppermint) Oil (Fragrance,Skin Conditioning)
Sodium Hydroxide (Denaturant,Ph Adjuster,Buffering Agent)
Menthol (Denaturant,External Analgesic,Flavoring Agent,Fragrance,Masking,Refreshing,Soothing)PEG-40 Hydrogenated Castor Oil (Fragrance,Emulsifying,Surfactant,,Perfuming)
Methylparaben(Fragrance,Preservative)
Diazolidinyl Urea (Preservative)
Propylparaben (Fragrance,Preservative,Perfuming)
Hamamelis Virginiana (Witch Hazel) Extract (Cosmetic Astringent,Skin Conditioning,Hair Conditioning,Soothing)
Aloe Barbadensis Leaf Extract (Emollient,Humectant,Skin Conditioning)

Usage

1) blackhead sebum gel/ blackhead softening gel
2) pump 2-3 pea-sized drops of off with those heads onto your palm.
3) apply on t-zone areas, or areas with blackheads and whiteheads.
OFF WITH THOSE HEADS + ANTI-POLLUTANT(S:30ML C:)