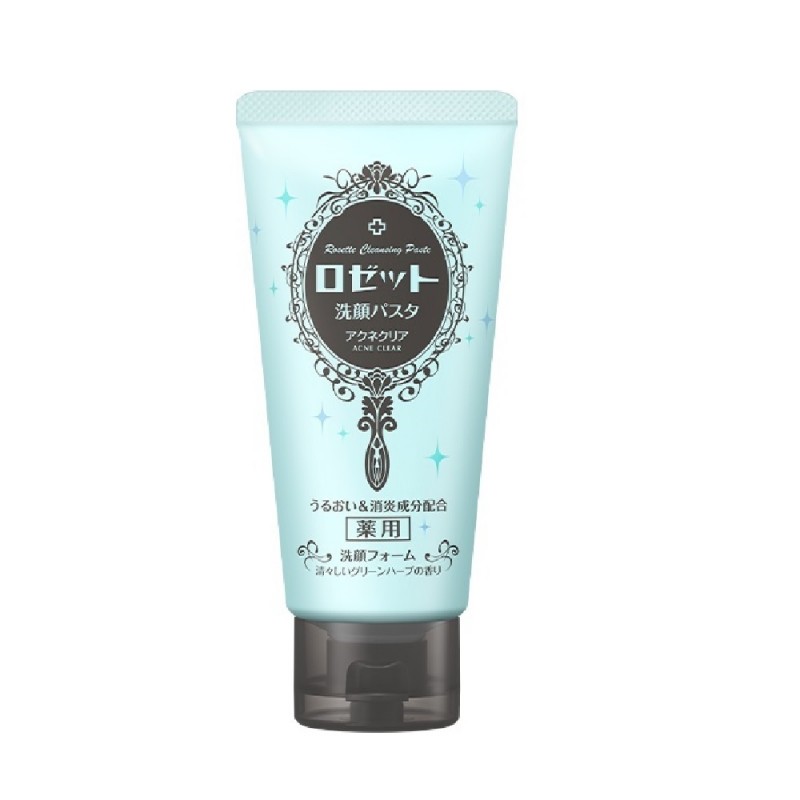 Rosette Cleansing Paste Acne Clear is a
medicated face wash with sea clays to
remove dirt and impurities. It reduces
inflammation, and prevents acne.
Ingredients

Sea clay, Ghassoul,
Stearyl Glycyrrhetinate,
Organic plant extracts
(Phellodendron bark extract,
soybean extract,
Houttuynia cordata extract)
Usage

Take an appropriate amount (appx. 1cm) on your hand, foam well with cold or warm water, wash and
massage your face gently with the foam, then rinse thoroughly.
Concerns

?Do not use if you have skin abnormalities. Carefully check that there are no abnormalities on your skin.
If you experience any abnormalities such as redness, swelling, itchiness, irritation, color loss (white spots, etc
.), or darkening during use or after exposure to sunlight, discontinue use and consult a dermatologist. If you continue
to use it as it is, the symptoms may worsen.
?Avoid contact with eyes. If it gets into your eyes, immediately rinse thoroughly with water without rubbing.
If you feel any abnormalities, consult an ophthalmologist.
?Avoid direct sunlight and hot temperatures, keep out of reach of infants.
?Although it is unscented, it is not odorless because it has a unique odor of raw materials.
?When using a bathroom dryer, do not place it in the bathroom.
FACE WASH PASTA ACNE CLEAR 120G
Brand: ROSETTE
Product Code:

10101010104725

Availability:

In Stock
RM 29.90
or 3 installments of

RM 9.97

with
Tags: skin care, cleansing & toner, rosette