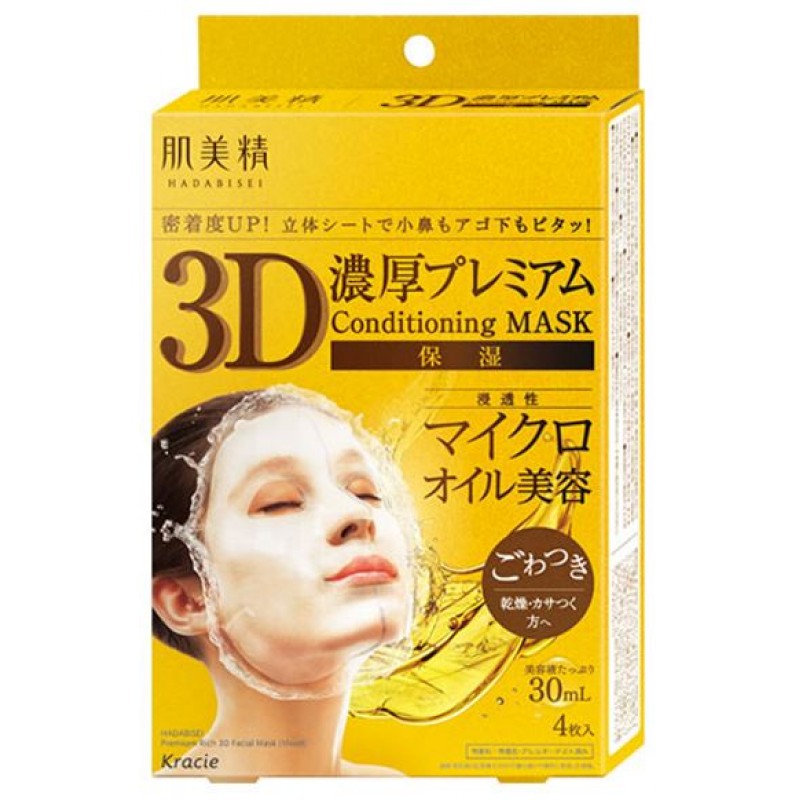 Improved 3D face masks with unprecedented premium thickness and adhesion
? Improved fit*1! Fits perfectly onto the undulations of the face. Allows for a suction-like fit and a rich texture on the skin.
? For firm, soft, and supple skin. Recommended for those with dry, scaly, or hard, thick skin.
Ingredients

moisturizing: oils: argan oil (argania spinosa kernel oil), squalane oil, and jojoba oil
skin conditioning agents: star fruit, Coix seed extract, yuzu ceramide, pot marigold, and glycerin
an agent that enhances penetration: fermentation solution of rice
stratum corneum conditioning agents (moisturizing): Lipidure® (polyquaternium-51)
Moisturizing Agent: Collagen
Usage

1?Please use the mask after cleansing and toning your skin.
2?Take the mask out of the sachet. Carefully spread the mask open by the protruding tabs to achieve a 3D shape. (Serum might drip, please be cautious.)
3?Apply the mask to your face starting from your forehead, aligning the eye holes over your eyes.
4?Gently tug on the sides of the mask to fit the contours around your eyes.
5?Smooth out any air bubbles, starting from your nose across your cheeks.
6?Align and fit the mask around your mouth and chin, tugging the mask upwards to achieve total adhesion.
7?Leave the mask on for 5 - 15 minutes (or up to 20 minutes if you have dry skin).
8?Remove the mask and massage the remaining serum into your skin.
Recommended for use 1-2 times a week.
HADABISEI 3D CONDITIONING MASK 4S (MOIST)
Brand: KRACIE
Product Code:

10101010507199

Availability:

In Stock
RM 56.90
or 3 installments of

RM 18.97

with