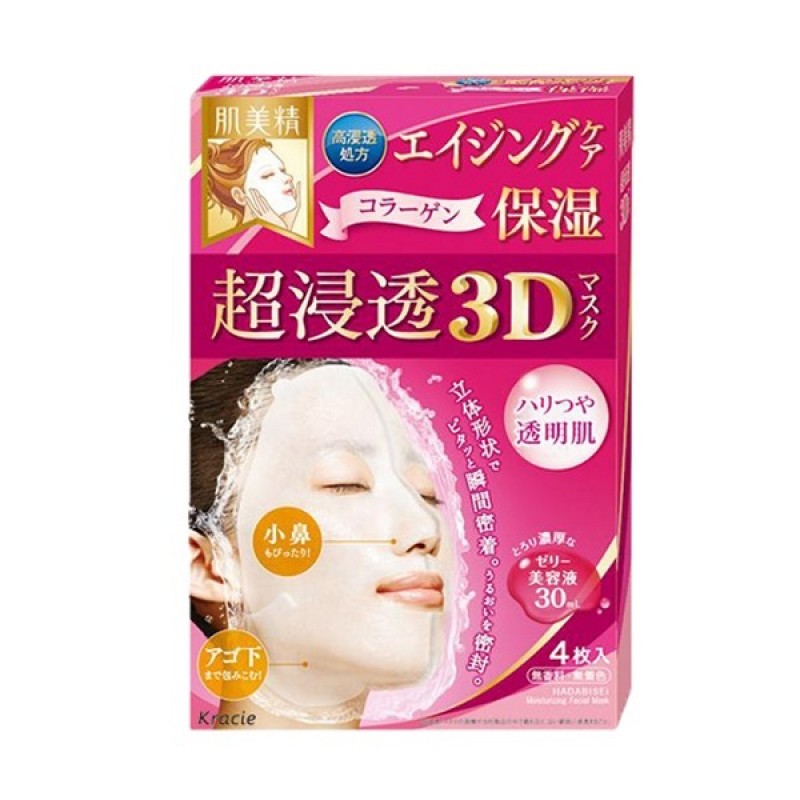 Hadabisei moisture mask 3D aging moisturizer 4 pieces, is a community of high cosmetic ingredients until the layer of keratin steadily penetrate the face mask sheet. Transparent and carefully penetrate the stratum corneum with plenty of milk essence leads to skin plump. Average 100 nm particles with extremely small, smoothly penetrates the deep layers of skin. Moisturizer to moisturize and moist.
Ingredients

Filled with rich; creamy serum for a strong moisturizing effect. Contains hadabiseis original skin conditioning mixture for beautiful skin texture: apple extract; coix seed extract; pearl extract*2; and peony extract (skin conditioning agents).
Usage

(1) After washing your face, prepares your skin with lotion.
(2) Pull out the mask according to the position of the eyes first to fit your mouth position close contact over the entire face. (liquid note to anyone. )
(3) Wait for 5 to 15 minutes (more for dry skin which cares for 20 minutes) then peel off the mask.
(4) Apply the remainings on the face gently by hand.
HADABISEI 3D FACIAL MASK 4S (AGING-CARE MOISTURISING)
Brand: KRACIE
Product Code:

10101010501330

Availability:

In Stock