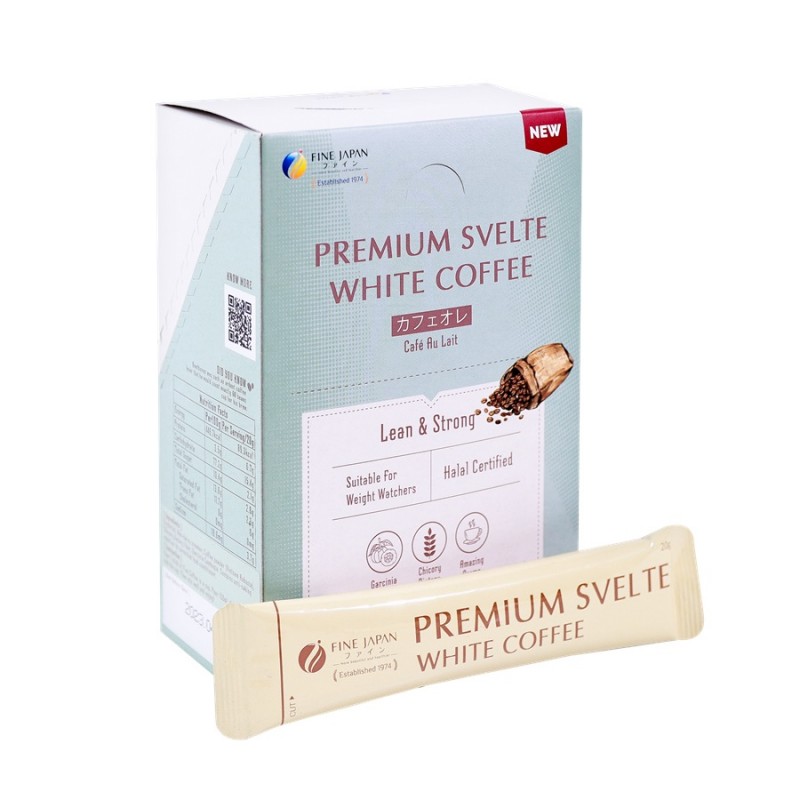 Expiry Date: April 2023
A white coffee that helps weight control. Contains Garcinia Cambodian extract that includes HCA (hydroxycitric acid)— which helps to reduce the synthesis of carbohydrates into fat. The dietary fiber in chicory extract helps prevent constipation. Made to please your tastebuds as well so you can still enjoy your coffee fix without the guilt trip. FINE Premium Svelte White Coffee was specially produced by FINE Japan for Malaysian tastes.
Ingredients

Erythritol, Non-dairy creamer, Coffee powder (Vietnam Robusta), Chicory dietary fiber, Garcinia Cambogia. Contains anti-caking agent as its permitted food conditioner.
Usage

Pour 1 stick in a cup with150ml of hot water. Stir well and enjoy.
Concerns

? Do not take if you are pregnant or lactating. Not suitable for young children.

? Refrain from taking if you have liver, kidney, heart disease, allergies or asthma, or if you are taking medicines.

? Be careful of consuming it if you are allergic to milk.

? If it does not suit you, reduce the amount of serving or discontinue use.

? Consume it as soon as possible after unsealed.

? Consume right after it has been dissolved.

? Contents may harden if moisture absorbed after opening.
PREMIUM SVELTE WHITE COFFEE 15S