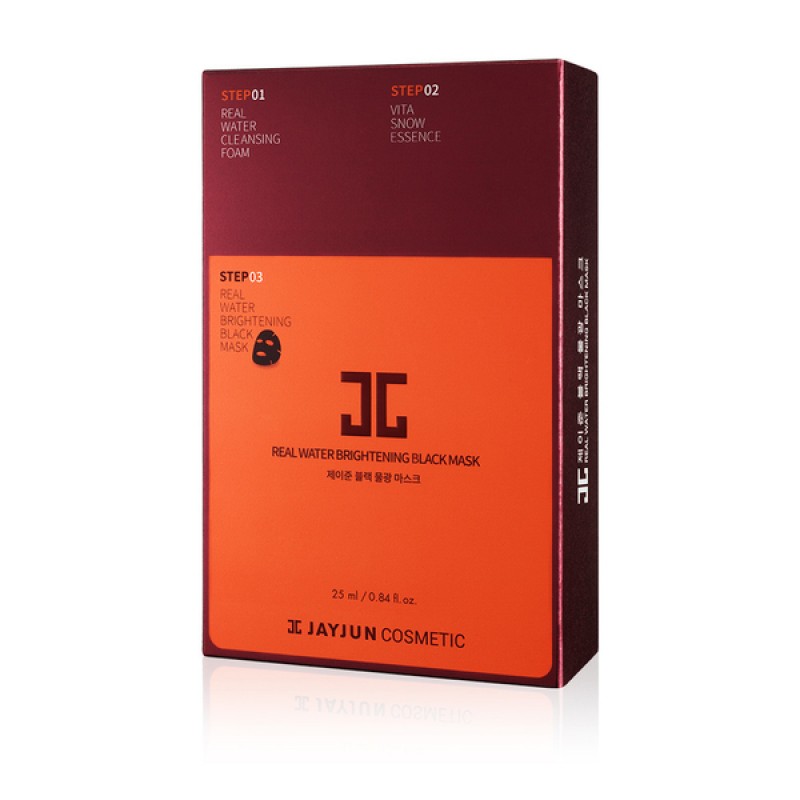 Step 1 real water cleansing foam
the soft bubbles thoroughly remove skin waste and makeup residue giving you clear skin. The papaya extract helps with softening dead skin cells and different kinds of moisturizing ingredients prevent skin from drying after cleansing by supplying moisture and keep your skin moisturized.

step 2 vita snow essence
the nutritious essence, which contains niacinamide and adenosine, makes your skin resilient and bright and a number of vitamins inside make your skin healthy.

step 3 real water brightening black mask
this highly moisturizing waterfull mask pack turns dry and rough skin into smooth and moist skin with ingredients such as sodium hyaluronate, betaine and ceramide and keeps your skin resilient and bright with niacinamide and adenosine
Ingredients

Step 1 real water cleansing foam
purified water; palmitic acid; glycerin; potassium hydroxide; stearic acid; lauric acid; myristic acid; beeswax; glyceryl stearate; peg-100 stearate; glycol distearate; cocamidopropyl betaine; sorbitan olivate; sodium hyaluronate; sea water; carica papaya (papaya) fruit extract; propylene glycol; hydroxyethylcellulose; butylene glycol; 1;2-hexanediol; ethylhexylglycerin; sodium chloride; disodium edta; chlorphenesin; phenoxyethanol; fragrance

step 2 vita snow essence
purified water; methylpropanediol; glycerin; niacinamide; sea water; sodium hyaluronate; illicium verum fruit extract; allantoin; betaine; beta-glucan; sodium ascorbyl phosphate; pyridoxine hcl; tocopheryl acetate; hydroxyethyl urea; 1;2-hexandiol; butylene glycol; caprylyl glycol; carbomer; tromethamine; glyceryl polyacrylate; peg-60 hydrogenated castor oil; adenosine; sodium starch octenyl succinate; calcium pantothenate; maltodextrin; ethylhexylglycerin; silica; disodium edta; phenoxyethanol; fragrance

step3 real water brightening black mask
purified water; methylpropanediol; glycerin; 1;2-hexandiol; niacinamide; sea water; sodium hyaluronate; betaine; allantoin; ceramide 03; beta-glucan; hydroxyethyl urea; butylene glycol; carbomer; tromethamine; peg-60 hydrogenated castor oil; adenosine; caprylic/capric tryglycerides; diethoxyethyl succinate; hydrogenated lecithin; phospholipids; ethylhexylglycerin; disodium edta; phenoxyethanol; fragrance
Usage

1. Step 1 cleanse with water shining vita real water cleansing foam.
2. Step 2 apply appropriate amount of vita snow essence and massage evenly into your skin.
3. Step 3 take out the real water brightening black mask sheet and apply it evenly across your face.
4. Remove the mask from face after 10 to 20 minutes and gently massage the remaining essence into skin.
REAL WATER BRIGHTENING BLACK MASK(S:25MLx10PCS C:)