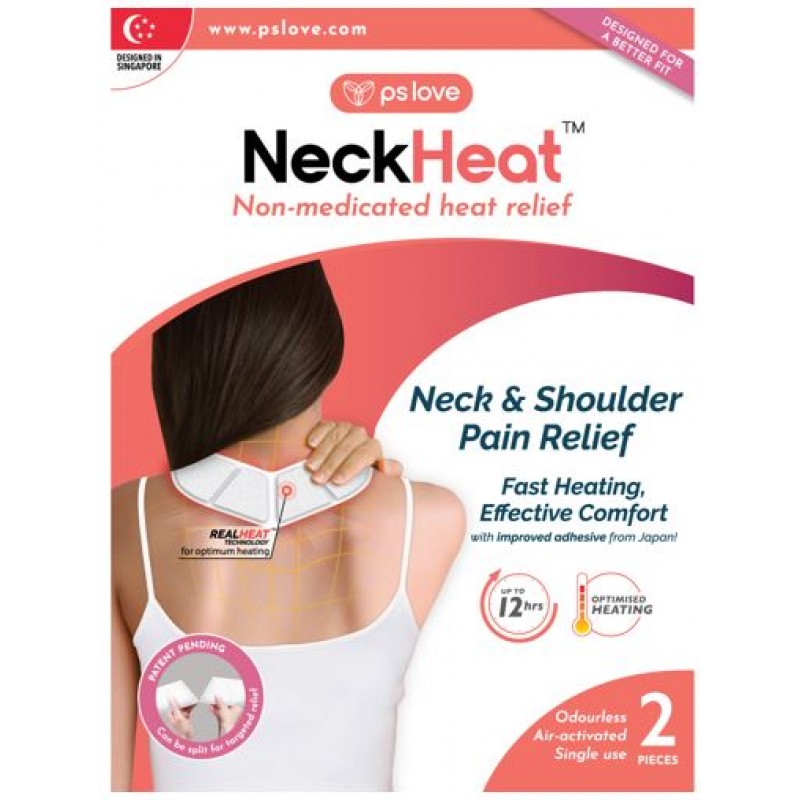 NeckHeat uses a 100% drug-free clinically-proven heat therapy method to relax your neck and shoulders, thus providing relief and comfort. Our proprietary formulation allows heat to be released quickly and steadily over 12 hours, so that you can get all day comfort and relief. NeckHeat is simple and extremely convenient to use. Simply tear open the packaging and it will start to heat up within 5-10 mins. NeckHeat is also designed to fit on your neck or shoulders for wide coverage and maximum comfort. It can even be split into 2 pieces for people with broader shoulders.
Ingredients

Iron, Activated carbon, WaterSalt, Vermiculite (mineral)
Usage

Tear open packaging NeckHeat will gradually heat up within 5 minutes upon contact with air) Peel and paste using either 1 of the 3 ways For most heat, paste on skin. Be cautious and do not use this method if you have sensitive skin | For moderate heat, paste on the underside of your shirt For least heat, paste on the outside of your shirt. Remove the product every hour and let your skin rest. Change usage method or remove product immediately if it gets too hot!
NECKHEAT NECK AND SHOULDER PAIN RELIEF (S:2S C:)
Brand: PSLOVE
Product Code:

10111020100053

Availability:

In Stock
Tags: otc medicine, external use, heat pack, pslove, pslove