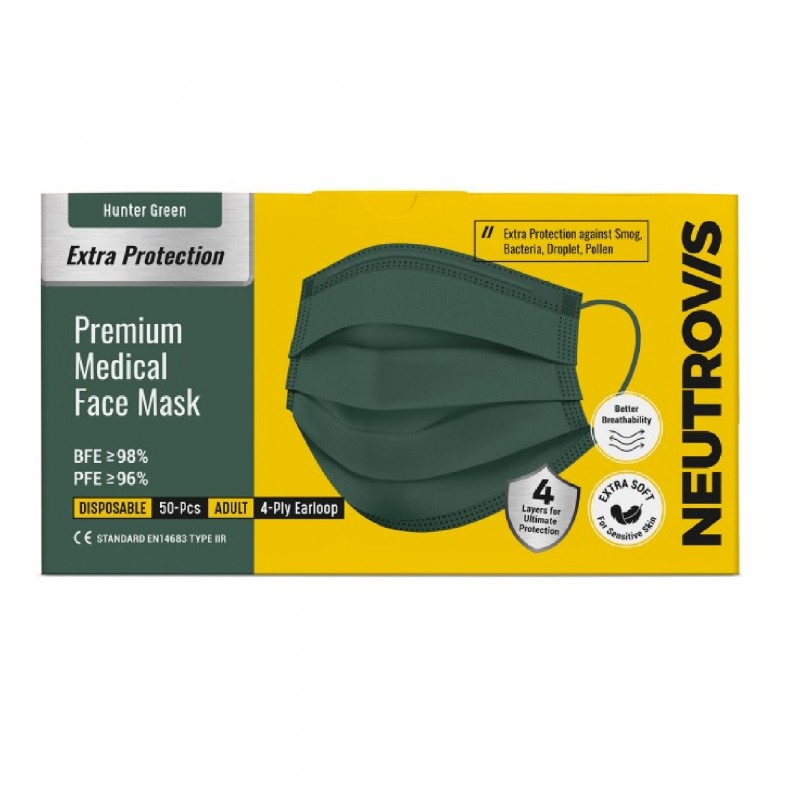 Introducing the latest additional to our collection - Neutrovis Premium Hunter Green Medical Face Mask. This Type IIR face mask is MDA approved and CE Certified that boost ultimate protection for face masks. Made of premium melt-blown filter fabric with BFE (Bacterial Filtration Efficiency) =98% and PFE (Particle Filtration Efficiency) =96% which is used to effectively block viable and nonviable particles.

Our premium face mask is customised (175mm X 95mm) to provide users with a better fit and added comfort for long wear. Perfect for blocking pollution, pollen dust, dust particles and bacteria from our surroundings.
Ingredients

Medical grade melt-blown ?lter fabric
Usage

1. Cover your mouth, nose and chin with the bottom-facing folds facing outwards.
2. Pinch the metal edge of the mask so it follows the contour of your nose bridge.
3. Place the bottom headloop above your ears and the top headloop under your ears.
4. Remove a used mask by holding only the headloops.

Concerns

1. Please make sure that it is used within the validity period.
2. Do not use if the inner plastic packaging is damanged.
3. It is disposable and is recommended to change every 4 hours.

PRE 4-PLY MEDICAL F.MASK (S:50S C:HUNTER GREEN)