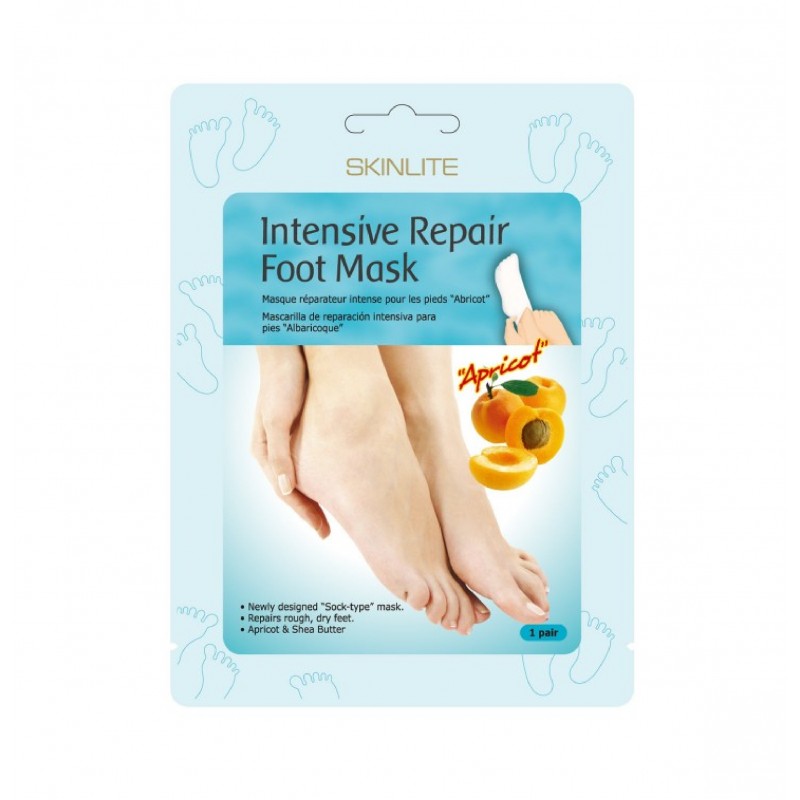 Skinlite Intensive Repair Foot Mask "Apricot" noticebly smoothes, softens and restores dry, cracked, calloused feet & heels, considerably improving the appearance. Prevents skin ckracking and healing of existing chaps. • Newly designed "Sock-type" mask
• Repairs rough, dry feet, promotes healing of skin chaps
• Antiseptic action
Ingredients

Shea butter has a anti-inflammatory, soothing and protective effect, Apricot extract intensely miosturizes and prevents chapping of the skin, Jojoba oil, Indian sesame oil and Olive Oil soften plantar callosity, deeply nourish and reengineered the skin, maiking it supple and smooth. Ectracts of Calendula, Chamomile, Purslane and Sunflower having antibacterial, antifungal, healing action, restore, relieve from perspiration and make your foot skin young and fresh.
Usage

1.Wash your feet with warm mater.
2.Open the pocket and wear the "Sock-type" mask..
3.Remove after 90-120 minutes and rinse off with warm water.
4.Calluses start peeling off in 4 to 7 days after use. Nearly all calluses will be removed in a further 3 to 5 days depending on their thickness. Do not use a callus remover or pick on calluses when they start peeling off.
5.After applying SKINLITE Exfoliating Foot Mask is recommended to use SKINLITE Intensive Repair Foot Mask "Apricot" regularly.
INTENSIVE REPAIR FOOT MASK (S:1S C:APRICOT)
Brand: SKINLITE
Product Code:

10101030500161

Availability:

In Stock
Tags: skin care, foot care, footmask, mask. foot, repair, treatment, skinlite, skinlite