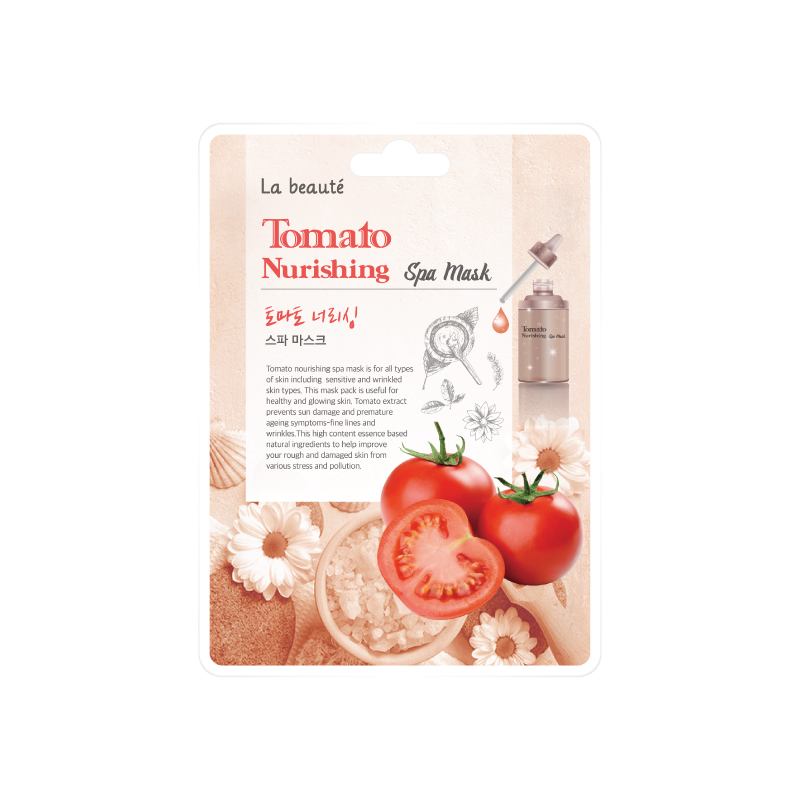 Tomato Nurishing spa mask is for all types of skin including sensitive and wrinkled skin types. This mask pack is useful for healthy and glowing skin. Tomato extract prevents sun damage and premature ageing symptoms-fine lines and wrinkles. This high content essence based natural ingredients to help improve your rough and damaged skin from various stress and pollution.
Ingredients

AQUA, Glycerin, Propylene Glycol, Sodium Hyaluronate, Betaine, Trehalose, Allantoin, Carbomer, Arginine, Disodium EDTA, XanthanGum, Methylparaben, Polysorbate 20, Tomato Extract, Hamamelis Virginiana (Witch Hazel) Extract, Phenoxyethanol, Aloe Barbadensis Leaf Extract, Butylene Glycol, Flavor
Usage

Soothe your skin with skin water after washing your face. Attach mask sheets to fit your face after opening the pouch. Remove mask sheet after 15-20min. Pat your skin softly to absorb the essence.
TOMATO NURISHING SPA MASK