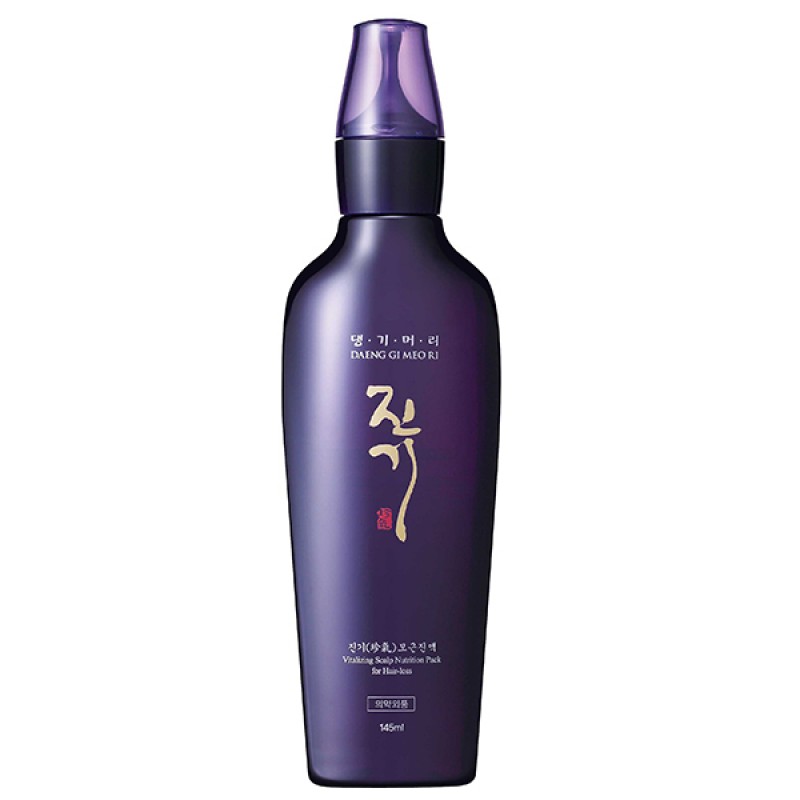 Daeng gi meo ri vitalizing energy scalp nutrition pack for hair loss is a nutrition scalp massage liquid that provides nutrients to the scalp and strengthening hair roots to prevent hair loss. Natural medicinal herb extracts such as lmenthol, salicylic acid, dpanthenol (quasidrug), red ginseng, licorice and Korean angelica which are the major ingredients of this product, provide nutrients and vitality to the hair roots, relieve dandruffs and itchy feeling while prevent hair loss and promotes hair growth. It purifies and normalises scalps with relaxing effects. The massage ball type device stimulates the scalp to be active and provide powerful care through rapid absorption. This nutrition liquid for scalp is a quasidrug product for hair loss, it has been safety tested and approved by fda.
Ingredients

Glycyrrhiza uralensis fischer; angelica gigas nakai; acorus calamus linne; cnidium; Korean ginseng; camelia sinensis leaf extract
Usage

Clean the scalp and hair with shampoo. Then, shake the hair root liquid sufficiently, and then apply proper amount on the scalp, after that, massage the scalp with fingers to help the liquid be absorb sufficiently. Tip: If used with any daeng gi meo ri anti hair loss shampoo the effect will be more powerful.


VITALIZING SCALP NUTRITION PACK FOR HAIR LOSS 145ML
RM 117.00
or 3 installments of

RM 39.00

with
Tags: hair care, hair treatment, hair treatment, hair mask, treatment, daeng gi meo ri