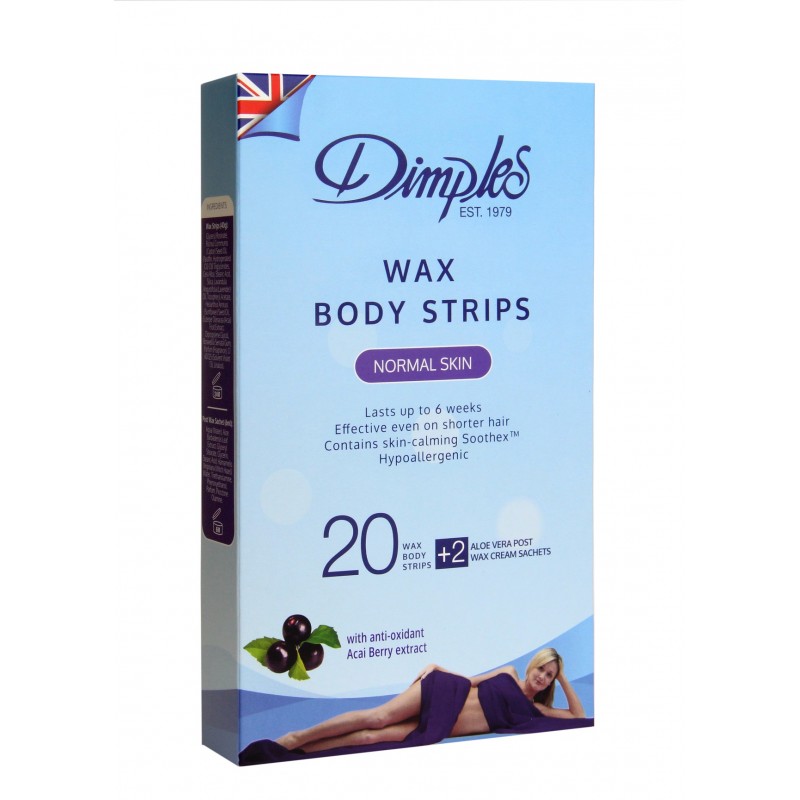 Dimples Wax Strips are quick and easy to use, and because they remove hair from the root, you can enjoy elegant, beautiful skin for up to 6 weeks. With three different wax strips, you're certain to find the right one for your needs. All our wax strips contain Soothex, a natural anti-inflammatory to calm your skin, and come with our gorgeous aloe vera post-wax cream for a perfect finish.
Ingredients

Prunus Amygdalus Dulcis Seed Extract and Triticum Vulgare Bran Extract coordinate the development of skin cells.
Usage

1. RUB THE WAX STRIP BETWEEN YOUR HANDS TO WARM THE WAX.2. SEPARATE THE WAX STRIPS SLOWLY. YOU CAN REUSE THE SAME STRIP MULTIPLE TIMES UNTIL IT NO LONGER ADHERES TO THE SKIN. PUT THE SPARE STRIP ASIDE UNTIL IT IS NEEDED, OR FOLD IN HALF TO SAVE FOR LATER USE.3. PLACE A STRIP ON THE SKIN IN THE DIRECTION OF HAIR GROWTH, AND SMOOTHE IT BY RUBBING IT REPEATEDLY.4. IMMEDIATELY PULL THE STRIP QUICKLY AND FORCEFULLY IN THE OPPOSITE DIRECTION OF HAIR GROWTH (FROM ANKLE TO KNEE). AS YOU PULL THE STRIP, KEEP THE SKIN TAUT TO AVOID DISCOMFORT. WHEN YOU HAVE FINISHED WAXING, REMOVE ANY REMAINING WAX WITH BABY OIL FOR A PERFECT FINISH.
Concerns

DO NOT USE IF YOU HAVE DIABETES OR CIRCULATORY PROBLEMS.DO NOT WAX OVER ACNE, CUTS, SUNBURN, MOLES, WARTS, VARICOSE VEINS, ECZEMA, DAMAGED OR LOOSE SKIN, WEAK SCARS, AREAS SENSITIVE TO HEAT, OR ANY OTHER SKIN AILMENTS. DO NOT USE ON AREAS TREATED WITH RETIN-A, GLYCOLIC ACID OR ALPHA HYDROXY PRODUCTS.DO NOT USE ANY PRODUCTS CONTAINING FRAGRANCE, ALCOHOL OR DEODORANTS, OR EXPOSE THE SKIN TO HARSH SUNLIGHT OR HOT WATER, BEFORE OR AFTER WAXING. DO NOT TAN FOR EIGHT HOURS BEFORE OR AFTER WAXING.DO NOT WAX ANY AREA AROUND THE EYES, INSIDE THE NOSE, OR THAT IS SENSITIVE TO HEAT OR WITH A SKIN INJURY.DO NOT SCRATCH OR RUB SKIN AFTER WAXING. IF IRRITATION OCCURS – PLEASE CONSULT A DOCTOR.DO NOT WAX REPEATEDLY OVER THE SAME AREA AS THIS COULD CAUSE BRUISING.
WAX BODY STRIPS 20S (NORMAL SKIN)