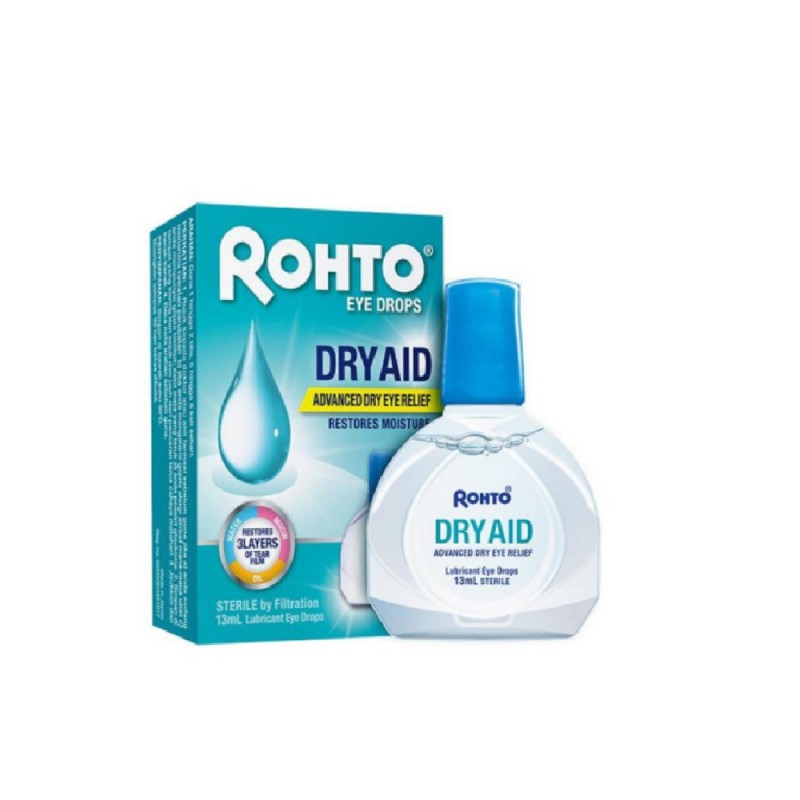 Itching, burning, stingy or gritty sensations in your eye? Rescue your eyes with this restorative, intensely lubricating eye drops for instant relief.

Benefits:

- Rohto Advacned Dry Aid Eye Drops 10ml intensely moisturise and refresh eyes to relieve dry, sore, itchy, burning, stinging, gritty, tired, irritated symptoms
- Using Rohto's TearShield™ Technology, these drops form a liquid layer of hydration which moisturises eyes without blurring your vision
- Over time, repairs your natural tear film for longer-lasting relief from symptoms
- Relieves dry, itchy irritation brought on by dry eye
- Keeps eyes moisturised for up to 12 hours
Ingredients

Proplyene Glycol, Povidone, Boric Acid, Sodium Borate, Menthol, Calcium Chloride, Magnesium Sulfate, Polyoxyl 40 Stearate, Polyoxyethylene Castor Oil, Poloxamer, Edetate Disodium, Sesame Oil/Minyak Bijan, Polyhexamethylene Biguanide, Purified Water/Air Tulen
Usage

Remove contact lenses before use.

1. Wash and dry hands thoroughly before using.
2.Rotate the cap to open.
3. Tilt your head back and look up.
4. Gently pull down the lower lid of the eye to form a small pocket between the eyelid and eye.
5. Hold the bottle with your other hand, between the thumb and middle finger and apply gentle pressure to
the eye drop bottle to release 1-2 drops into the pocket.
6. Softly wipe away any excess product around the eyelid.
7. Tightly snap on the cap to seal.
ADVANCED DRY AID EYE DROPS 10ML
Brand: ROHTO
Product Code:

10111090100041

Availability:

In Stock
RM 33.90
or 3 installments of

RM 11.30

with
Tags: otc medicine, eye drops, , latest, rohto