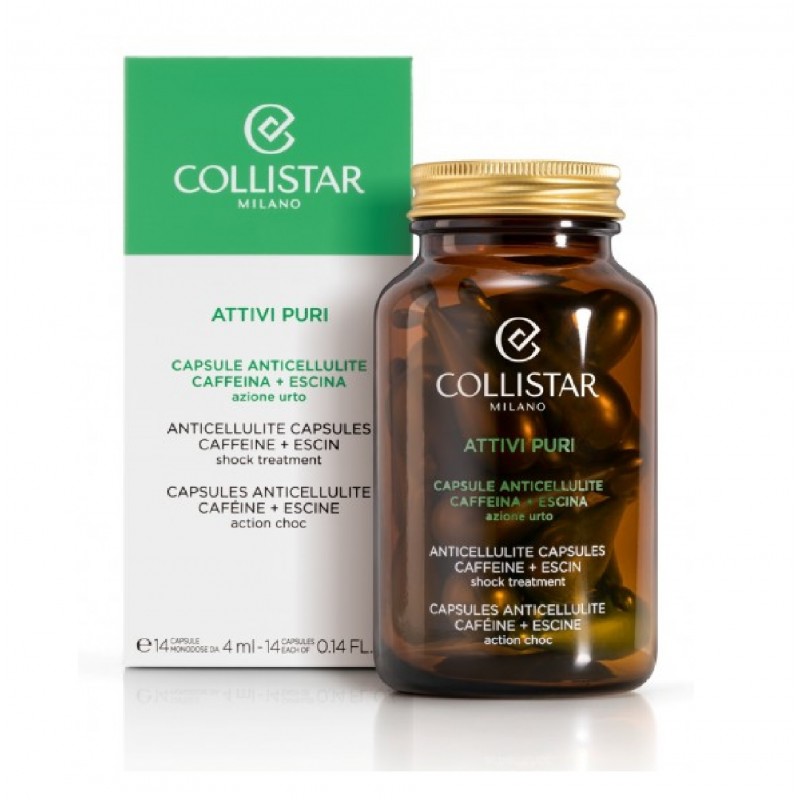 From Collistar the new frontier in dermo-cosmetic research in the fight against cellulite blemishes. Collistar has long been at the cutting-edge of cosmetic research and, after the incredible success of the Pure Actives face line, has formulated a special body treatment combining the two most effective anticellulite active ingredients in single-dose gelatine capsules that guarantee a highly effective, extremely pure product. The result is these ANTICELLULITE CAPSULES, which combine the fat burning properties of caffeine with the draining capacity of escin for a shock treatment against blemishes caused by cellulite. Produced thanks to the most advanced technologies, the single-dose capsules - which Collistar has pioneered in the cosmetics sector - contain the optimum dose of caffeine and escin in their purest forms, free of water and preservatives, and keep these intact until they are used. Pure formulas - do not contain water, preservatives, fragrances, alcohol or colourings.* cosmetic against the imperfections caused by cellulite.
Ingredients

Cyclopentasiloxane, ethylhexyl, palmitate, dimethiconol, caprylic/capric triglyceride, lecithin, coffea arabica seed oil, escin,trimethylcyclohexyl butylcarbamate, bht, vitis vinifera fruit extract
Usage

Suitable for all types of cellulite, even very embedded and stubborn cellulite, the capsules are effective on their own or alternated with other anticellulite treatments. In accordance with individual requirements they can be: used as an initial shock treatment before other products, alternated, morning or evening, with another anticellulite treatment, used on alternate days/weeks with another anticellulite treatment.Twist off the top of the capsule and apply the contents with an upwards movement, massaging into skin from the ankles towards the buttocks. External use only.
ANTICELLULITE CAPSULES CAFFEINE + ESCIN SHOCK TREATMENT 14'S