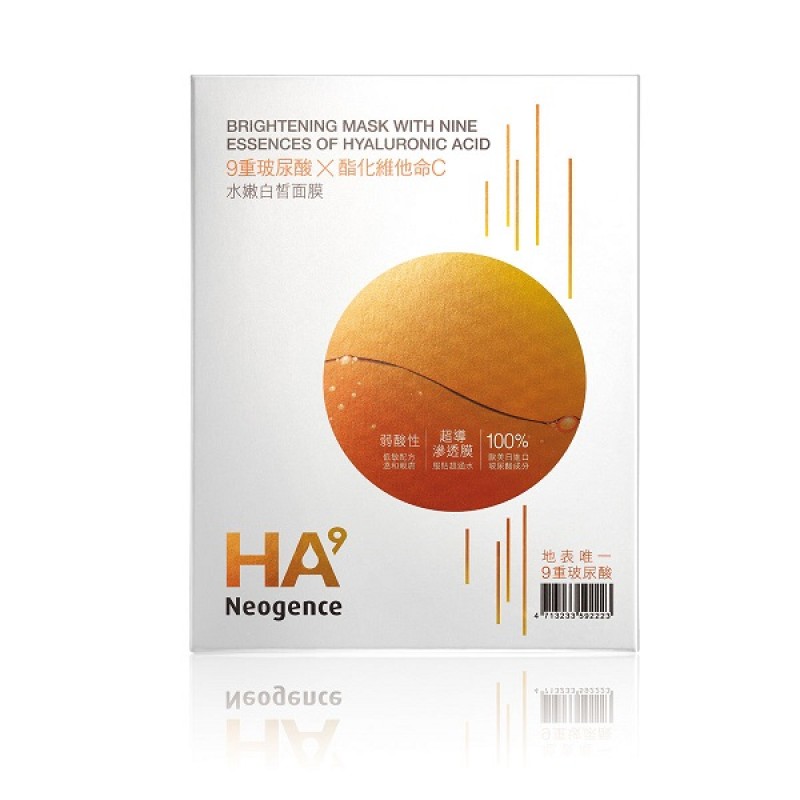 The new ha9 mask series adopts the gold 333 formula. With the transparent texture, it is refreshing and nourishing. The large and small molecules hyaluronic acid supply the skin 24 hours deep, nogap water hydration, spherical hyaluronic acid, hyaluronic acid peptides and other components support the skin and smooth the fine lines, enhance the skin elasticity in order to have full and moisturized skin. Seaweed hyaluronic acid helps to resist external dryness, and maintains the moisture on the surface of the skin at all times, as if the mask is applied anytime and anywhere. The main component of ha9 essences bright mask is esterified Vitamin C, which aims at reducing and inhibiting melanin production, improving skin dullness and uneven skin tone as well as whitening the skin.

Product feature:
-lowsensitivity formula: weakly acidic, mild and skinfriendly.
-superconducting membrane: It is made of selected plant fiber membranes, with super threedimensional mesh structure, super adherence, more effective in promoting absorption and introducing essence into the skin.
-high quality: the hyaluronic acid ingredients are all imported from europe, america and Japan.
Ingredients

Esterified Vitamin C; large; medium and small hyaluronic acid; spherical hyaluronic acid; hyaluronic acid peptide; water cube hyaluronic acid; cation hyaluronic acid; water polymembrane; seaweed hyaluronic acid
Usage

After cleansing and toning, apply the mask to your face, leave for 15-20 minutes. After tearing off the mask, gently massage the entire face until the rest of the essence is completely absorbed.
HA9 BRIGHTENING MASK WITH NINE ESSENCES OF HYALURONIC ACID 5S